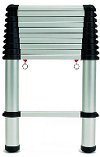 TELESTEPS® focuses on products that quickly and easily expand to their full size when used but take up little space when stored and transported.
TELESTEPS® ladders are the world's most innovative and flexible ladders with the ability to extend in one-foot increments to the perfect length for any job. TELESTEPS® are made from sturdy, lightweight, high quality aluminum alloys. Molded top bumpers and feet provide slip resistance and surface protection. Molded serrated climbing rungs with non-slip treads are for safe, comfortable climbing.
The Elliptical (Model E) ladders include:
New elliptical tube design from the round tubes for added strength and innovative design and cosmetics.
Locking indicator tabs under the rungs have been replaced by green and red indicator windows at either side of the rungs on both sides that turn from red to green when the ladder is extended and green to red when retracted. Green indicates the mechanism is locked and red unlocked. It is a much safer and advanced locking indicator system.
Release rungs under the first rung have been replaced by the new single "one touch" ladder release mechanism for easier ladder operation.
New updated top bumpers and new updated bottom pivoting feet.
Updates to the internal locking mechanism and retraction system for smoother operation and retraction of the ladder.
TELESTEPS® telescoping ladders are compact and portable. Model 1600E is just 30 inches in length when closed and expands to 12.5 feet when fully extended. It gives the same climbing height as a conventional 16 foot extension ladder.
TELESTEPS® ladders are of superior design, high quality, and built to last. It's the hard-working ladder for hard-working people.
TELESTEPS® ladders have a 12 month manufacturer's warranty.