Benefits of TELESTEPS® Ladders
Lightweight, Portable, and Compact

Lugging around a full-sized ladder can be a hassle, but TELESTEPS® ladders are easy to carry, easy to operate, and easy to store. Model 1600E weighs only 23 pounds and is compact at just 30 inches tall. You'll be able to avoid problems in elevators, stairways, or any tight spaces. TELESTEPS® is small enough to store in a kitchen cabinet, trunk of your car, or behind the seat in your truck.
Many Ladders in One
You choose the height you want the ladder to be (in one-foot increments) and then lock securely and safely in place. TELESTEPS® gives you many extension ladders in one small package.
For Homeowners and Professionals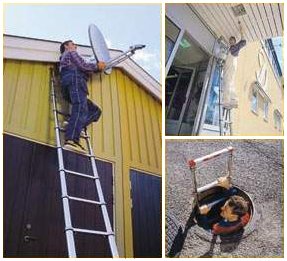 Many around-the-house tasks can be handled more easily with TELESTEPS® like tree trimming and cleaning gutters and second story windows. TELESTEPS® ladders are ideal for use on a motorhome and ensures better safety by not needing a fixed in-place ladder on the motorhome. Hunters and boaters will find TELESTEPS® a handy ladder that packs unobtrusively with other equipment and supplies. TELESTEPS® is a practical addition to the needs of roofing contractors, appraisers, home inspectors, claims adjusters, pest control technicians, truck drivers, the military, and police.
Quality Product
TELESTEPS® ladders are safe, reliable, and conform to American National Standards Institute (ANSI) and Occupational Safety and Health Administration (OSHA) requirements. They are also the recipient of 10 international awards for innovation and quality.
TELESTEPS® ladders are the world's most innovative and flexible ladders. TELESTEPS® are made from high quality, high strength, lightweight aluminum alloys. Molded top bumpers and feet provide slip resistance and surface protection.
Solare Enterprises, LLC :: PO Box 540693 :: Grand Prairie, TX 75054 Copyright © 2023 Telesteps.biz
Hosting and Coding by Potent Products